EyeDentity is here to help you see the world as clearly as possible and to offer our expertise and honest opinion as we establish and enhance the "YOU" you want the world to see.
Thanks to the fashion industry we no longer see glasses as just a tool to help us see better. Eyewear has become one of the most important accessories in your wardrobe. You can now place your glasses on a pedestal just above your designer shoes and handbags. They frame your eyes. They are a first impression and a peek into the personality you want to portray to the world.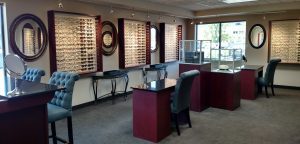 EyeDentity is a premier optical boutique in Spokane, WA. We offer a distinctive collection of frames and exclusive designers that you won't likely find anywhere else in the area. We pride ourselves on being a trend leader in the industry and personally select every frame in our dispensary. Our decisions are based on quality, style, craftsmanship and comfort. You won't be disappointed!
EyeDentity offers unparalleled customer service to make eyewear shopping an enjoyable experience. From frame selections to taking precise measurements and interpreting the doctor's prescription in conjunction with your lifestyle, we take our time to ensure the best possible glasses for all of your eyewear needs.

Lenses for Every Lifestyle
There have been some very exciting advances in digital lens technology. Superior lens treatments, coatings and materials are always being developed and improved upon. At EyeDentity, we are pleased to offer quality, trusted lens products from both Hoya and Carl Zeiss.
Everyday – This is your go-to pair. The pair you rely on in your daily routine.
Sunglasses – This is the pair that protects your eyes from harmful UV rays. The pair that you rock like a movie star every time you put them on. The pair that has the polarized lenses that make your trophy fishing dreams a reality.
Computer – This is the pair you wear for those long days at the office and in front of the computer. The pair that helps with your detailed craft work. The pair that helps you to see clearly at mid-range and up close. The pair that aids in preventing eye strain and headaches. The pair you leave on your desk at the end of the day.
Anti-Fatigue – This is the pair that eases eye fatigue from electronic devices used throughout the day. The pair that safeguards against cell phones, tablets and other devices that create visual demands our eyes are not made for.
Kids – This is the pair that is strong and durable enough for our active little ones. The pair that is also stylish enough that they will like wearing them. The pair that protects the eyes of our children.
Also ask us about our Driving Lenses, Sports Goggles and other specialty options.
With the demands of our busy lifestyles, it is not unrealistic to need multiple pairs of glasses, so EyeDentity gladly offers our patients a multiple pair discount.
When you choose EyeDentity for your eyewear needs, you also receive:
A frame and lens warranty (exclusions apply, ask for details),
A complimentary cleaning kit with purchase,
A custom fitting, and
Free adjustments for the life of the glasses.
Hours
Wednesday
8:30am - 5:30pm
Learn more about EyeDentity Eyecare + Eyewear or schedule a time to see one of our doctors today!